Done with week one of my 21 day challenge and I'm happy to say I've met all my goals. Stayed in calories every day, worked out 160-something minutes this week, and no alcohol to sabotage my efforts (even yesterday on St. Patrick's day!)
The only thing I did was go a little off track with my exercise. I skipped a 50-minute workout yesterday. I have quite a few excuses for this, but none of them really matter. I just didn't make time - I was really busy. I could have fit it in if I tried, but I didn't. The important thing is I did meet my goal of at least 150 minutes of exercise. I did indeed go running again and wow, that killed me! Yesterday I basically went on a shopping spree (hence the lack of time!) which was foolish but cathartic. I really can't afford it, but I desperately needed some new clothes for spring/summer (Old Navy is amazing right now, by the way. I got eleven items - 2 dresses, a skirt, a pair of shorts, several tops, a scarf, and earrings for $114.) I also went to Target and ended up buying a cheap chair and side table for my patio. My "patio" is actually this really tiny hunk of concrete directly outside my patio doors, and it's so small that the chair doesn't even FIT on it! Anyway, it makes me happy. Bought a top there as well and a cami. I also went to Trader Joe's and in addition to my groceries bought some potted daffodils and a potted herb garden (with rosemary, sage, and thyme... I'm excited about this because my very favorite chicken salad recipe I make uses fresh rosemary). AND I went to the craft store and managed to drop like $60 there. Sigh. I am really going to have to pinch pennies majorly now that I managed to blow all that money! I am going to have to start going to the really crappy but really cheap grocery store again. I can't keep affording Trader Joe's and Metcalfe's which is too bad because I really hate shopping at the crappy one. Their produce is really hit and miss... usually miss. And it is just stressful because everyone in the world shops there. They do have EVERYTHING though.
I also didn't stick to my meal plan though I did stay within my calorie goals each day. I ended up having more leftovers than I expected and the day that I went on my run I didn't end up getting home til almost 8:00 so I heated up a Lean Cuisine (which I know are horrible for you, but I keep them around in case of emergencies! Luckily I ate a TON of broccoli with it and I'm hoping that helps balance it out some :))
So was the first week of the challenge worth it? Definitely. Well, at least I hope so. I managed to lose another pound, for a total of 16.4 lbs lost... though that is based on my weigh-in yesterday, and when I weighed in today I was 2 lbs heavier than yesterday (blaming it on my heavy salt intake - had sushi for lunch!) I'm sort of learning to ignore the scale most days. Of course, I'm still thrilled when I reach a new low weight.
The weather here is still spectacular. At 81 degrees, it actually feels *too hot* for me to run. Amazing! Instead I stayed indoors and did my hour-long step aerobics workout, burning 600 calories according to my heart rate monitor. It felt really easy today in comparison to how it usually feels. It's the first time I've noticed a difference in my stamina this year. I love that! I did all the advanced moves which I haven't been able to do in a year or so. I've also been doing it on the lowest step height, and I'm going to need to increase that next time, I think. Don't get me wrong, it still was hard and I was sweating like CRAZY and now I'm exhausted, but it felt easier than it usually does. I think it's the running - which has been getting my heart rate up almost to the 190s, which is when I slow the hell down - getting only to the mid-170s at my highest exertion feels way more comfortable. I also noticed that my starting heart rate was way lower today... good sign :)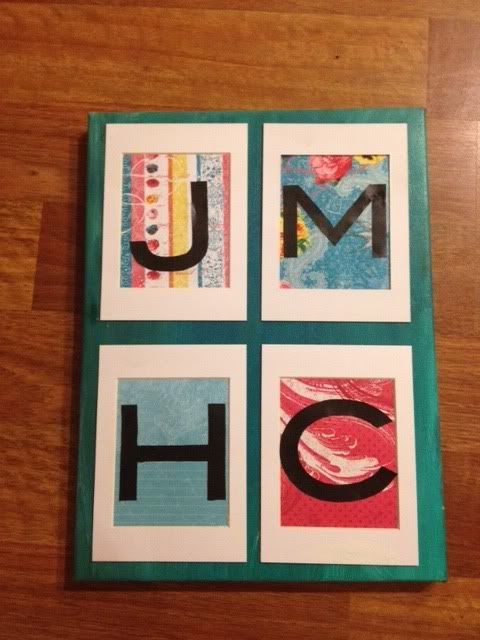 I mentioned in my last post that I wanted to get more creative, hence the trip to the craft store. I bought some canvas and made this, which is for work (the letters are the initials of the agency.) My officemate and I have been meaning to decorate since we got the office a month ago, and she's been bringing in photographs and I think my other coworker is going to bring in some of her art (she has an MFA) so I wanted to contribute. I'm pretty happy with the way it turned out, since I'm not a crafty person and my first attempt was an epic failure. It's essentially just a painted canvas, some photo mats, and scrapbook paper. It was supposed to be way bigger but, as mentioned, I screwed up the first canvas. It was supposed to be a bigger painting with the same mats/scrapbook paper in the upper left corner. This works too, though.
Here's my menu plan and exercise plan for the week. I ended up not wanting to make the curry I was supposed to make last night (some of the veggies I needed went bad before I could make it) so I ended up making something else... so now my meal plans are starting on Saturdays again instead of Sundays.
Saturday
Dinner: Cheeseburgers (96% extra-lean ground beef, provolone, greens, tomato, ketchup, mustard) with roasted green beans
Workout: Didn't do it!
Sunday
Dinner: Almond-crusted chicken with broccoli
Workout: Step aerobics (63 minutes)
Monday
Dinner: Portobello and red bell pepper sandwiches with brussels sprouts
Workout: Cardio kickbox (25 minutes)
Tuesday
Dinner: Blackened chicken salad with guacamole (greens, avocado mixed with tomato and red onion and garlic and lime, bell pepper, leftover veggies)
Workout: Rest Day
Wednesday
Dinner: Leftovers
Workout: SparkPeople Cardio Blast (I just got this DVD for free in the mail because I won it on the SparkPoints wheel! I don't know how challenging it is yet, but I'm aiming for 40 minutes… if it's too hard I'll make it up some other way!)
Thursday
Dinner: Chili-glazed tofu over asparagus and carrots and brown rice
Workout: Wii Fit Gold's Gym boxing (40 minutes)
Friday
Dinner: Probably out with my mom - we're going to a Dar Williams concert and will likely go somewhere for dinner beforehand!
Workout: Rest day
Total workout minutes: 168
Hope everyone is doing well!